As far as I can tell, companies which use Taleo don't actually maintain the servers which we use to submit our applications. These servers are maintained by Taleo as indicated by the root URL when applying for a job: company.taleo.net. (Like chase.taleo.net for Chase.)
Ahh, that makes life easy. When I need to return to a job site (to edit an app, find more jobs, or whatever) it seems that I should just be able to go directly to the root site, login, apply.
Alas, this is often not the case, for reasons that I truly don't understand, the root address typically does nothing.
Abercrombie.taleo.net
sort of takes me where I want to be. The front page is this rather obtuse page that is mostly for internal HR people with only one link for job applicants.
(Getting here is weird incidentally, the URL flips several times and Firefox goes through a bunch of weird data sessions.)
To be fair, each company sets up Taleo to their inscrutable preferences. Chase.taleo.net takes you nowhere--their jobsite seems to plug the Taleo feed into a frame on their website.
The effect is terrible for what it's worth. On Firefox (note I originally said "Mozilla" when I meant Firefox) it looks like this:
It does look slightly, but not significantly better in IE.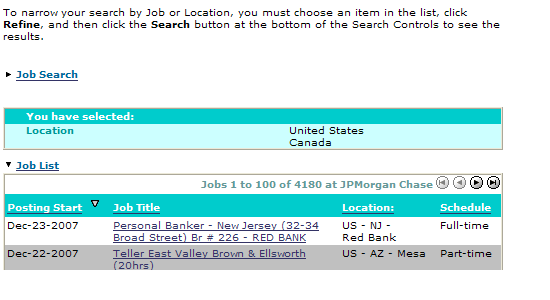 (I believe, though I suspect many will disagree, that any professional corporate site that doesn't work well in all the major browsers is amateurish.)
Today's completely amusing experience comes from going directly to Accenture.taleo.net. After 3 URL redirects, I'm presented with the following:

Whereas I said before I find sites that don't work well in all browsers amateurish, I find sites that require me to turn off my pop up blocker unforgivably bad. (I have encountered other job sites that require this and undoubtedly they'll be shamed on here as well.)
Since the root site is more oriented towards HR and not the candidates, I can only conclude that there are HR people everywhere frustrated by the sillyness of not having pop-up blockers because they have to use this crappy system. (It seems this problem only occurs in previous versions of Taleo.)
Going back to the original situation, what happens when you press ok?

Splendid. I really appreciate the null email address and the completely bizarre error message language (request corrupted during transmission? Huh? These are all good quality zeros and ones I'm sending...)
This is not the first time on a Taleo site I've been told to re-open my session. I'm not sure what that means in terms of a page on a browser. I know it doesn't mean restart my browser (but, alas, the less tech savvy might do that to the demise of their spare time) but does it mean simply refresh the page? How about re-log in to the site? If that were the case, why doesn't it just give me the damn link to re-log in?