So I'm looking for jobs at the Chase site. I'm squinting hard at the initial results...
Now I need to figure out how to narrow the search to jobs available just in New York, New York.
In case you can't read the words at the top telling you how to do this...
"To narrow your search by Job or Location, you must choose an item in the list, click Refine, and then click the Search button at the bottom of the Search Controls to see the results."
After clicking all sorts of different things, what you're supposed to do is click on the link that says "Job Search." (The directions are actually telling you how to execute the search after you successfully click on "Job Search." Funny, that's the easy part, the hard part was opening up the refine search tool. Why am I being given directions to do the easy thing with a tool I can't figure out how to open up? Meh.)
I guess it should be more obvious. "Job Search" has a tiny little arrow next to it that is to pointing right and not down, a clear indicator that I needed to select "Job Search" to...oh who am I kidding? It sucks.
But I click anyway, and I'm given the following:
I think I can make sense of this. I'll look for something "Admin/Secretarial" in New York, New York. To do that, I'll select "Admin/Secretarial" in the United States and press refine.
As you can see, I'm not in sub-categories of "Admin/Secretarial." Well, you can't see that, because there's no indication in the search box that I'm now one level into that category. (It sort of indicates it...it changes the word "category" to "function" but it really should be clearer--like it is in the location search box.)
We won't indicate a particular function, and just search for New York, New...
Shit. Well, that's probably not Taleo's fault, that's the bank's. Just to make sure I get everything, I'll cmd-select all three (yes, I will accept a job in North America.)
I press refine let the page update, and realize nothing happens. In my mind, refine should be updating the results in the list all along, but it doesn't. I guess that's ok, although the page shouldn't allow me to choose "refine" if it's not going to do anything (since I'm at as fully refined category wise as I can be.) So then I press search.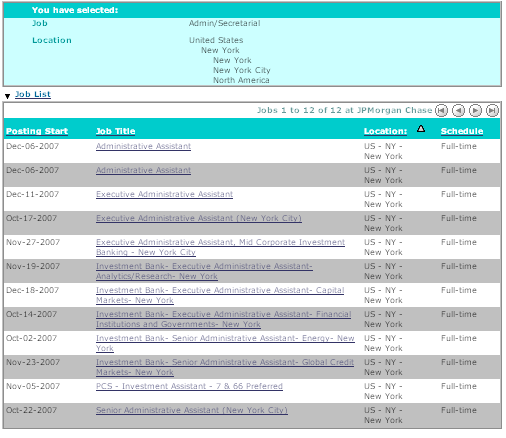 Well that looks good, I'll select the first job and see what it's all about.
*reads*
Meh. Let's read about the other jobs in the list...I'll press the back button to go back to the list...
"No no no" you say...you're supposed to use the really small link at the bottom of the page that says "Return to the job list."
Let me tell you something. Every other major website has figured out how to avoid this error message. Try it--search on ebay, amazon--all of them allow you to use the back button to return to the search list. It's easy, it's fun, it's also the web standard, and the one that we the internet generation, are so used to using.
Do I get frustrated getting this message over and over again because I can't learn a lesson quickly? No. My problem is that I have used thousands of webpages which all function in the exact same way (allowing me to go back to the search results) and for some reason this lame website always throws up this meaningless error message (although it does, to its credit, work, if I bother to press ok.)
This is what I mean by a strange consistency of Taleo. Why do I have to press a special link to return to the search results when the natural thing is just to go back?